I linked to a post by Cloudflare CEO Matthew Prince the other day. In it, he wrote:
The super heroes of this crisis are clearly the medical professionals at the front lines saving people's lives and the scientists searching for a cure. But the faithful sidekick that's helping us get through this crisis — still connected to our friends, loved ones, and, for those of us fortunate enough to be able to continue work from home, our jobs — is the Internet.
The data is kind of incredible. My friend Paul sent me this from Akamai:
– Since the week of Feb 10th, Akamai has seen a 30% increase in traffic in four countries with early lock-downs (China, South Korea, Japan, Italy) vs. RoW.

– Since the week of March 9th as more countries implemented lock-downs, global traffic saw 30% Y/Y growth vs. 3% on average

–  Peak traffic has more than doubled Y/Y to 167 Tbps.

– AKAM execs calling it the "greatest spike in Internet traffic the company has ever experienced"
Cloudflare is seeing similar numbers.
Big cloud providers are investing massively in their infrastructure to keep up.
I was on a Zoom yesterday and the clarity of the picture was remarkable. I thought to myself, "how are they doing this when everyone is using this service?"
And the answer, of course, is that Zoom doesn't have to provide all of the bandwidth for their service. We all do.
Netflix doesn't have to provide all of the bandwidth for their service. We all do.
The decentralized architecture of the internet is showing itself off right now. And it is a beautiful thing to behold.
---
USV TEAM POSTS:
Supporting Grid110 – South LA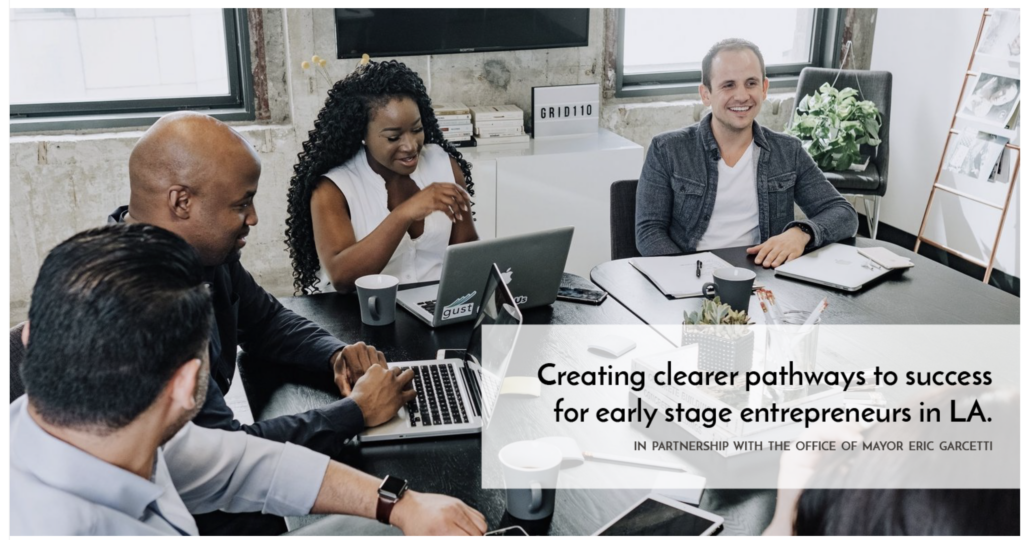 Amy and I, through our Anchor Point Foundation, are supporting the Grid110 – South LA program.
Austin Clements was one of the Black VCs I reached out to after George Floyd was murdered with the question, "What are two things you are involved in that I can support with time, money, and influence?" I knew Austin from his time at TenOneTen Ventures (we are an LP) and I reconnected with him when he joined the Kauffman Fellows Program (Class 25).
Among other things, he told me about Grid110 and why he was helping create and lead Grid110's new program in South LA.
Grid110 is a non-profit with a mission is to foster the most thriving, inviting and inclusive community for entrepreneurs in Los Angeles. They believe that anyone with the goal of becoming an entrepreneur should have the chance to pursue it and receive support along the way. Their work impacts individuals who are often overlooked by traditional entrepreneurial ecosystems, making the the entrepreneurial path more equitable, inclusive and accessible.
I committed to providing funding for the program at the end of the call. Since then, the program has launched with its inaugural class and has been up and running since July.
Over 90% of the selected companies are led by Black and Latinx founders, and the majority of founders are women. The companies are wide ranging — from CPG products to B2B SaaS, from early childhood support all the way to death care services, from for-profit Co-Ops to non-profit boutiques. Some are first time entrepreneurs right out of college, others have long track records of shaping business and culture.
Tonight, I'm doing a virtual AMA with the program. I'm very looking forward to it.
If you are interested in supporting Grid110, you can make a donation here.
The post Supporting Grid110 – South LA appeared first on Feld Thoughts.
Mark Your Calendars – Important Dates to Know for SaaStr Annual at Home

We're just a few weeks away from SaaStr Annual 2020 at Home on September 2-3.
Our incredible line-up includes
CEO of Mailchimp
CEO of $20b ZoomInfo
CEO of Stackoverflow
CEO of YCombinator
COO of Github
CPO of Zendesk
CPO of Asana
CMO of Twilio
CMO of Snowflake
VPE of Slack
VPE of Twitter
and 100s more!! And a keynote pass is FREE!!
Here's some important information to help you make the most of the world's largest online community event.
Upcoming Dates to Know:
August 18 – Session registration goes live (make sure you're on the first to book sessions! some sessions have a virtual cap)
August 25 – Attending networking platform opens to create your profile
August 31 – Attendee networking platform goes live
September 1 – SaaStr Annual at Home Networking Day – Roundtables, VC Office Hours and 1:1 meetings
September 2 – SaaStr Annual at Home Day 1 – Workshops
September 3 – SaaStr Annual at Home Day 2 – Keynotes
Be sure to use these links to add all these dates and links directly to your calendar.
Meet A VC Applications Are Open
Meet A VC is one of our most popular networking programs at the conference and helps connect hundreds of SaaS startups with a curated list of elite VCs attending the show for 1:1, virtual meetings.
If you're a founder who would like to participate, apply here.
If you're a VC who would like to participate, apply here.
The post Mark Your Calendars – Important Dates to Know for SaaStr Annual at Home appeared first on SaaStr.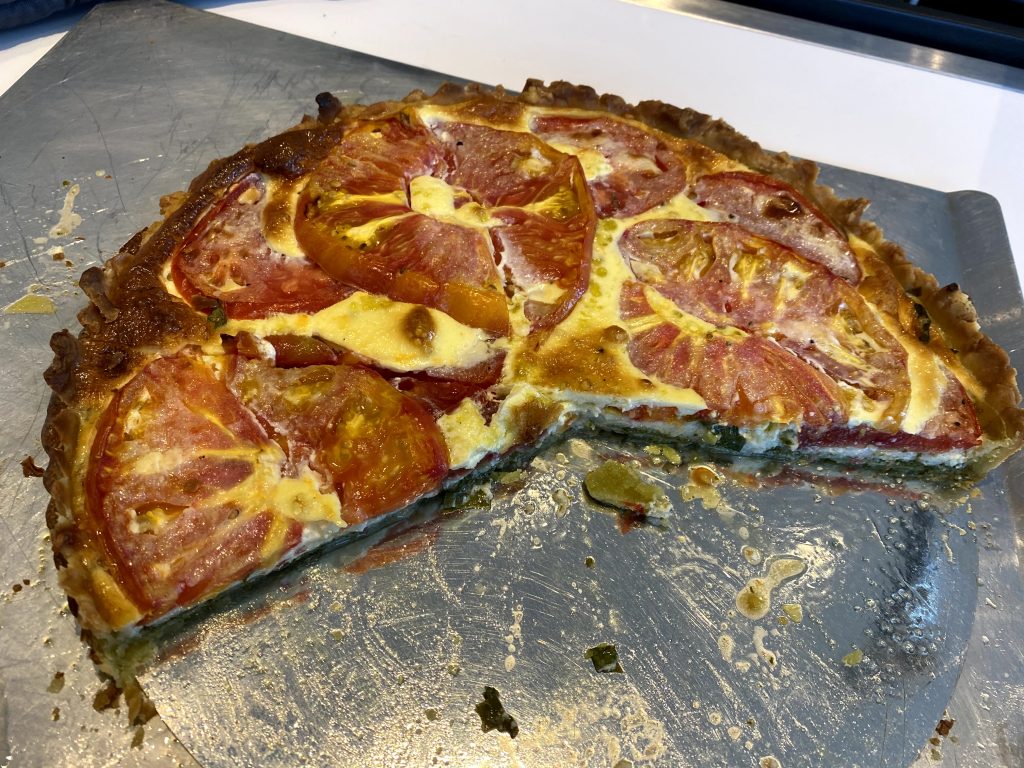 We dug in before proper pictures were taken. There is nothing like a tomato tart when the tomatoes are perfect. It is a decadent treat.
I make my dough but store-bought works too. I also used a 12″ tart pan that I got in Paris. It is huge! So I played around with the recipe to make it work. The recipe below is for a 9″ pan but there is some color commentary on what I did with the bigger pan. The pesto can be store-bought too but I keep a homemade jar in the fridge so that worked.
3 large ripe heirloom or beefsteak tomatoes
1/4 to 1/2 cup pesto (enough to cover the bottom of the tart)
1 cup shredded mozzarella (again could be more or less)
1 tablespoon finely chopped fresh basil
1 tablespoon finely chopped fresh oregano
3 large eggs
⅓ cup heavy cream (used a bit more and added another egg because the size of my pan)
½ teaspoon kosher salt
½ teaspoon freshly ground black pepper
Heat the oven to 350. Roll out the dough in your tart pan. Cover with parchment paper and then pour in the baking beans. Bake for about 15 minutes or until the dough sets. Take out the beans and put the crust back in the oven for another 5 or until set.
Slice the tomatoes, put in a colander for about 20 minutes to drain excess water.
Spread pesto across the bottom of the crust.
Sprinkle the mozzarella over the pesto.
Sprinkle the herbs over the top.
Whisk together the eggs, cream, salt and pepper.
Layer the tomatoes on next. They should overlap because they shrink up.
Pour the cream mixture in.
Bake for about 30-35 minutes or until the cream is set.
Serve warm or at room temperature.
The post Tomato Tart appeared first on Gotham Gal.