Last week Congress passed the CARES Act which provides a vast array of financial relief provisions to people and businesses in the US.
Congress is providing relief to small businesses via a forgivable loan program administered by the Small Business Administration (SBA). The SBA has long been in the business of making small business loans, but the loans under the CARE Act are very different. Here are the primary provisions of these CARE Act loans (cut and paste courtesy of my friends at KE Law):
Loan Program Eligibility.  Any business concern (including franchises) as well as non-for-profit organizations, with no more than 500 employees are eligible to receive a single loan under this Act.  The maximum amount of the loan is the lesser of (1) $10M, and (2) 2.5 times the monthly payroll costs determined over a specific testing period.  No personal guarantees or collateral will be required for loan eligibility under this Act.
Loan Proceeds Usage. Loan proceeds can be used for payroll and other compensation costs, health benefits, insurance premiums, mortgage interest, rent, utilities and interest on other outstanding debt.
Loan Forgiveness. Perhaps the most important element of the Loan Program is its loan forgiveness element. Pursuant to the Act, borrowers under this Act will be forgiven a specific sum equal to the sum of (1) certain payroll costs, (2) mortgage interest payments, (3) rent, and (4) utility payments that were incurred during an 8-week period beginning on the loan borrowing date.
Forgiveness Penalties. Given the intent of the Act to save American jobs and salaries, the amount of the foregoing loan forgiveness will be reduced by certain factors. These factors include a reduction in the average number of full-time employees as well as substantially reduction (beyond 25%) in employees' salaries.
Other Terms. The maximum loan term under the Act will be 10 years (for amounts that were borrowed that are not subject to loan forgiveness), and the maximum interest rate is 4%. The first payment on any loan under this Act will be for at least six (6) months, but not longer than a year.
How to Apply. Eligible business should seek competent counsel immediately to work on the application, as the loans will begin to be available likely by the middle of April 2020. Required information for the application will include payroll documentation, tax filings, unemployment insurance filings, proof of payment of payroll taxes, mortgage applications and the like.
So this sounds great for startups, right?
Well not so fast.
The law as written requires "affiliates" to aggregate their employees into a total and that must be below the 500 employee threshold in order to qualify for these loans. And most of the lawyers that I have talked to over the last few days read the affiliate provision in the CARES Act such that any venture capital-backed startup would need to affiliate with all of the other startups that are backed by the same venture capital firm or other kind of investor.
There are many folks in startup land (lawyers, investors, CEOs, lobbyists, etc) who are working with Congress and the SBA to address this issue. Many of the largest employers in small businesses in the US are backed at some level by investors who back many startups, including angels, seed funds, VC firms, and corporate investors.
From what I can tell, based on some work but not exhaustive work, this was not intentional on the part of Congress and there seems to be a willingness to figure this out.
If you are planning on accessing these loans, I recommend talking to a lawyer who is well versed in venture capital and startup law and make sure you are looking carefully at the affiliate provision. And if you have a relationship with your elected officials in Washington, you might want to reach out to them and explain that the Cares Act affiliate rules are problematic.
It is my hope that this "bug" in the law will get fixed over the next week or so. It may be possible for the SBA to address this issue without the need for any more work by Congress and that would be ideal in my view.
---
USV TEAM POSTS:
Supporting Grid110 – South LA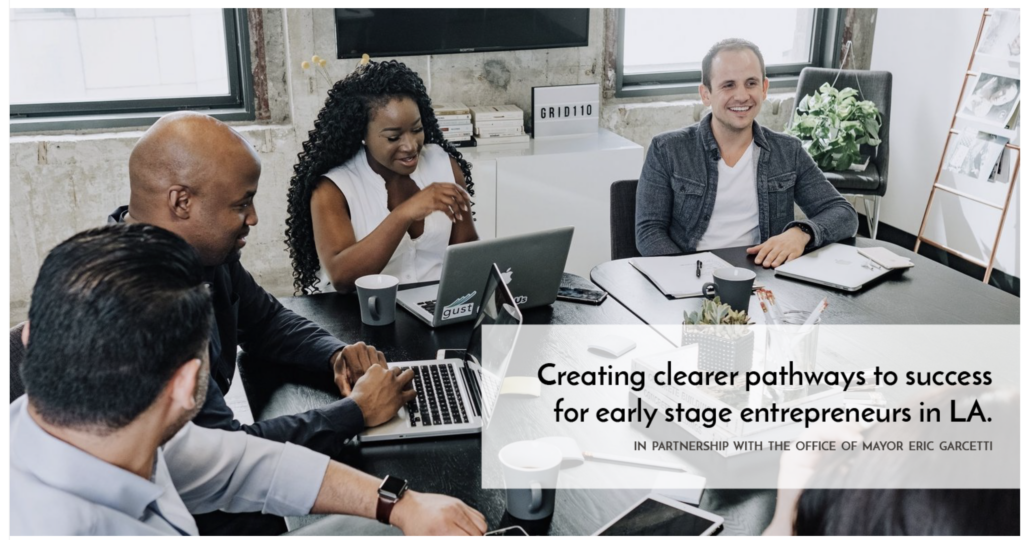 Amy and I, through our Anchor Point Foundation, are supporting the Grid110 – South LA program.
Austin Clements was one of the Black VCs I reached out to after George Floyd was murdered with the question, "What are two things you are involved in that I can support with time, money, and influence?" I knew Austin from his time at TenOneTen Ventures (we are an LP) and I reconnected with him when he joined the Kauffman Fellows Program (Class 25).
Among other things, he told me about Grid110 and why he was helping create and lead Grid110's new program in South LA.
Grid110 is a non-profit with a mission is to foster the most thriving, inviting and inclusive community for entrepreneurs in Los Angeles. They believe that anyone with the goal of becoming an entrepreneur should have the chance to pursue it and receive support along the way. Their work impacts individuals who are often overlooked by traditional entrepreneurial ecosystems, making the the entrepreneurial path more equitable, inclusive and accessible.
I committed to providing funding for the program at the end of the call. Since then, the program has launched with its inaugural class and has been up and running since July.
Over 90% of the selected companies are led by Black and Latinx founders, and the majority of founders are women. The companies are wide ranging — from CPG products to B2B SaaS, from early childhood support all the way to death care services, from for-profit Co-Ops to non-profit boutiques. Some are first time entrepreneurs right out of college, others have long track records of shaping business and culture.
Tonight, I'm doing a virtual AMA with the program. I'm very looking forward to it.
If you are interested in supporting Grid110, you can make a donation here.
The post Supporting Grid110 – South LA appeared first on Feld Thoughts.
Mark Your Calendars – Important Dates to Know for SaaStr Annual at Home

We're just a few weeks away from SaaStr Annual 2020 at Home on September 2-3.
Our incredible line-up includes
CEO of Mailchimp
CEO of $20b ZoomInfo
CEO of Stackoverflow
CEO of YCombinator
COO of Github
CPO of Zendesk
CPO of Asana
CMO of Twilio
CMO of Snowflake
VPE of Slack
VPE of Twitter
and 100s more!! And a keynote pass is FREE!!
Here's some important information to help you make the most of the world's largest online community event.
Upcoming Dates to Know:
August 18 – Session registration goes live (make sure you're on the first to book sessions! some sessions have a virtual cap)
August 25 – Attending networking platform opens to create your profile
August 31 – Attendee networking platform goes live
September 1 – SaaStr Annual at Home Networking Day – Roundtables, VC Office Hours and 1:1 meetings
September 2 – SaaStr Annual at Home Day 1 – Workshops
September 3 – SaaStr Annual at Home Day 2 – Keynotes
Be sure to use these links to add all these dates and links directly to your calendar.
Meet A VC Applications Are Open
Meet A VC is one of our most popular networking programs at the conference and helps connect hundreds of SaaS startups with a curated list of elite VCs attending the show for 1:1, virtual meetings.
If you're a founder who would like to participate, apply here.
If you're a VC who would like to participate, apply here.
The post Mark Your Calendars – Important Dates to Know for SaaStr Annual at Home appeared first on SaaStr.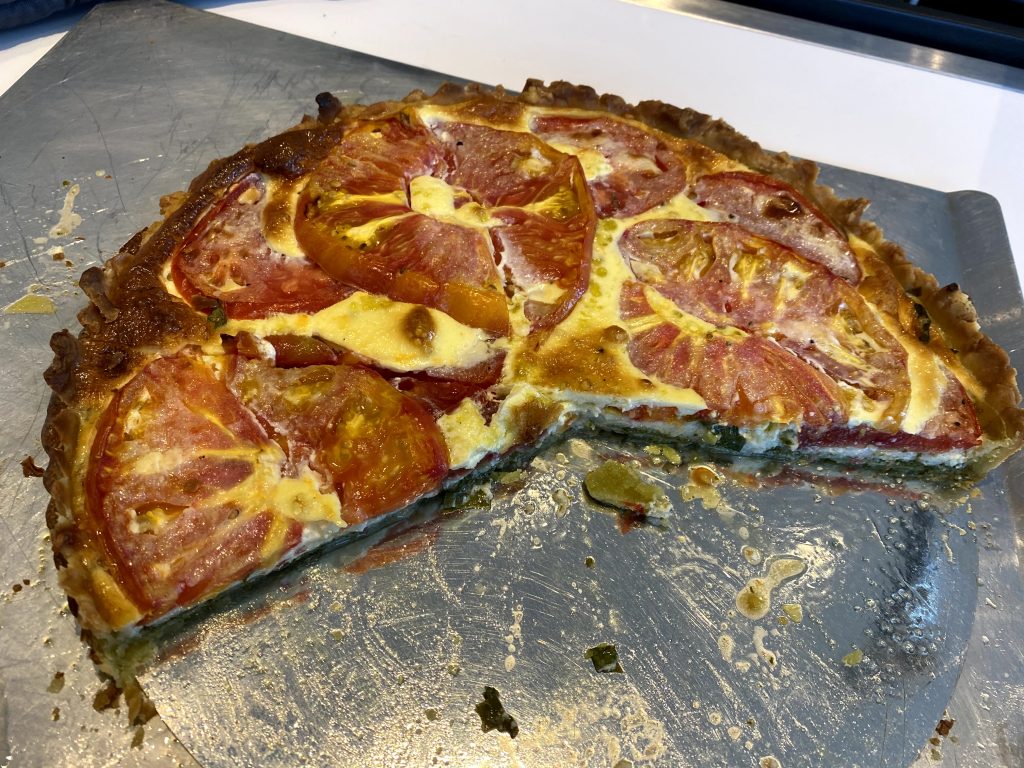 We dug in before proper pictures were taken. There is nothing like a tomato tart when the tomatoes are perfect. It is a decadent treat.
I make my dough but store-bought works too. I also used a 12″ tart pan that I got in Paris. It is huge! So I played around with the recipe to make it work. The recipe below is for a 9″ pan but there is some color commentary on what I did with the bigger pan. The pesto can be store-bought too but I keep a homemade jar in the fridge so that worked.
3 large ripe heirloom or beefsteak tomatoes
1/4 to 1/2 cup pesto (enough to cover the bottom of the tart)
1 cup shredded mozzarella (again could be more or less)
1 tablespoon finely chopped fresh basil
1 tablespoon finely chopped fresh oregano
3 large eggs
⅓ cup heavy cream (used a bit more and added another egg because the size of my pan)
½ teaspoon kosher salt
½ teaspoon freshly ground black pepper
Heat the oven to 350. Roll out the dough in your tart pan. Cover with parchment paper and then pour in the baking beans. Bake for about 15 minutes or until the dough sets. Take out the beans and put the crust back in the oven for another 5 or until set.
Slice the tomatoes, put in a colander for about 20 minutes to drain excess water.
Spread pesto across the bottom of the crust.
Sprinkle the mozzarella over the pesto.
Sprinkle the herbs over the top.
Whisk together the eggs, cream, salt and pepper.
Layer the tomatoes on next. They should overlap because they shrink up.
Pour the cream mixture in.
Bake for about 30-35 minutes or until the cream is set.
Serve warm or at room temperature.
The post Tomato Tart appeared first on Gotham Gal.