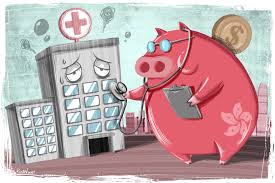 We all knew that our healthcare system was teetering but didn't think it was in total shambles. One of the many things this pandemic has done is open up the reality of how utterly insecure our foundation is.
Many hospitals have closed over the past decade. They are expensive to run because the insurance is high. Delaying new equipment due to the cost including a deep back end supply of drugs has put many hospitals in the position of not keeping up with the latest and greatest. It has become an antiquated situation in many parts of the country where they can barely focus on saving sick people.
Is that how we want our hospitals to run? Don't we want them to have state of the art equipment, be on top of the latest medical breakthroughs, give us comfort when we walk in the door that we are safe no matter where we are in this country?
The cost of insurance continues to sky-rocket. There is little competition that would force costs down. Nobody should have to decide between health insurance and rent? That is unacceptable. There needs to be a complete shakeup from bottom up in the healthcare industry starting with insurance and the cost of medicine.
We should all be able to afford to keep ourselves healthy with access to the system when need be such as state of the art hospitals that are constantly working on the latest and greatest and sharing that information with other hospitals across the country and globe.
Isn't that what we all believe the United States should be? Certainly, now more than ever we should be asking ourselves how do we fix it because what we have now isn't working for most and that is unacceptable.
10 of the Most Exciting Sessions at FREE SaaStr University Event THIS WEDNESDAY!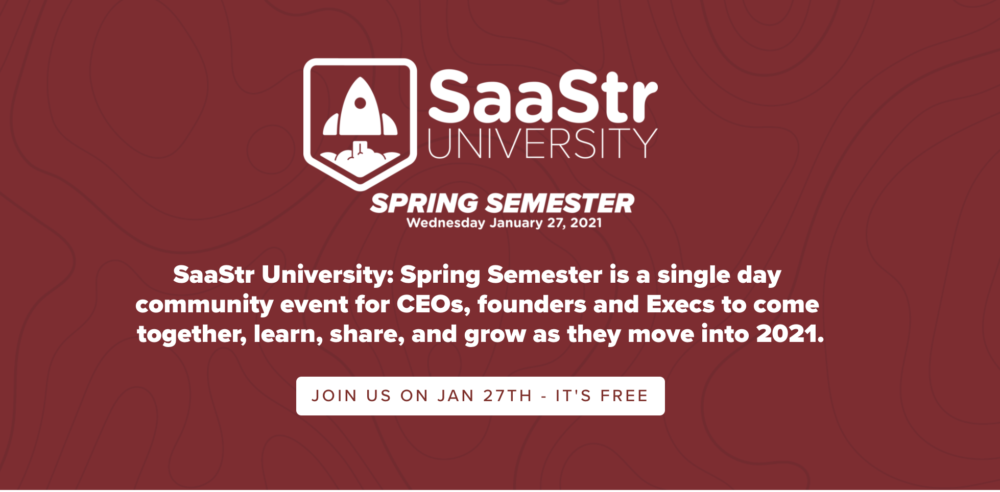 We're gearing up for our first SaaStr event of 2021 … SaaStr University: Spring Semester.
A highly hands-on, tactical event, come learn how:
To Raise Your Next VC Round, With Point9's Christoph Janz.
How to Build Your First CS Team, with VPs from AgentSync and Peak Support.
How to Build a Unicorn, with Salesloft CEO Kyle Porter.
How to Build A Great Intern Program, with Shopify's VPE Farhan Thawar.
How to Do ABM Campaigns for Real, with Snowflake's Head of ABM.
How to Executing a Winning Self-Service Strategy, with Wix's VP of Sales.
How to Boost NRR — Quickly, with Terminus' CEO.
How to Market at Mass Scale, with Harry Stebbings and Ryan Bonnici, CMO at Whereby.
How to Get Sales Enablement Working, with Zoom's head of sales enablement.
How to Build a High Retention Sales Culture, with Unity's VP of Global Sales.
And so much more!!
It's FREE but sessions have max registrations, so sign up now HERE.
The post 10 of the Most Exciting Sessions at FREE SaaStr University Event THIS WEDNESDAY! appeared first on SaaStr.
I am returning to a theme that I feel quite strongly about.
I blog on WordPress using a host that I have selected and can move from at any time. WordPress is open source software and I can download it and run it on my own machines if I want to. I don't. But being able to do that is key.
Medium and Substack and Clubhouse and Twitter, etc, etc are fantastic. They make it drop dead simple for anyone to share their thoughts with the world.
But they are controlled by someone else. You can get kicked off. And when you get kicked off, you lose all of your followers, all of your content. Gone.
I'm not down for that.
Nor should you be.
---
USV TEAM POSTS:
Gartner: SaaS Will Be Even Bigger Than We Thought in 2022+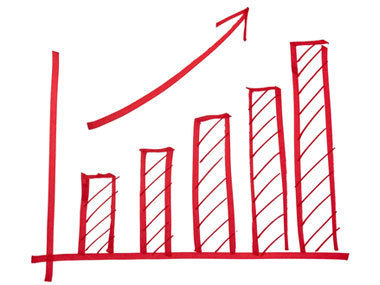 Early in my career, I was a bit skeptical of big analyst firms like Gartner.  Was it all sort of some sort of game in enterprise software?
But like many things, time goes on and I learned.  Yes, sometimes a vendor recommendation from Gartner can seem a bit circular.  But it doesn't mean the analysis isn't valuable.
It's especially valuable in terms of market sizing and trends, because they do the work.  They talk to 100s and 100s of CIOs and CTOs to learn where they are spending.
And the answer in the next few years?  Even more on Enterprise Software than we thought.
Gartner has increased its estimates for global enterprise and IT spend for 2021 and 2022, with Enterprise Software and SaaS the biggest beneficiary, projected to grow a stunning 10.2% in 2022.
The Covid Boost isn't over.  It just brought the future nearer by 3-7 years.
Strap in, and enough with the excuses.  The Cloud isn't only bigger than ever.  It'll be even bigger than we planned just a few months ago.
And enterprise software has an incredible run ahead of it.
Be part of it.
The post Gartner: SaaS Will Be Even Bigger Than We Thought in 2022+ appeared first on SaaStr.